Wealden Business Group launches competition to supercharge new business growth
Wealden Business Group, the successful professional networking organisation for small and medium sized companies, is launching The Business Edge, an initiative aimed at supercharging the growth of a new or recently-established business.
Says Martin Tickner, chairman of the Tenterden-based group: "As owner-managers of small and medium sized businesses, we know that money is tight in the early months after a business is launched, which is precisely the time that new business leads, advice and support are most valuable".
The Business Edge is a competition offering a year's free membership of Wealden Business Group, worth more than £500, plus free one-to-one mentoring and advice sessions with existing members, experienced specialists in marketing, PR, law, finance, IT and other vital business disciplines.
In addition, the winner of The Business Edge has the opportunity of pitching their business services to members – since April, the group has generated almost 200 referrals between its members – as well as attending free seminars on topics such as social media and cyber security.
The Business Edge is open to owner-managers of any business launched in the past three years. The entry process is simple – applicants should email edge@wealdenbusinessgroup.co.uk explaining in no more than 100 words why their company deserves to win the prize. Closing date for applications is Wednesday, 28 February EXTENDED to March 31st 2018.
Three shortlisted candidates will be asked to come along to a meeting of the Wealden Business Group and present their case in a two-minute pitch.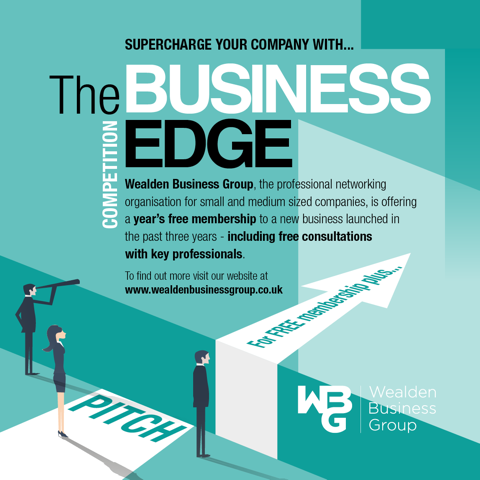 Please do download the flyer for printing or emailing to your contacts