Steve and Sheralyn Hammond have turned the tragedy of losing their 15-year-old son Ben last year into an inspiring campaign to help other youngsters recognise unidentified, and potentially fatal, heart conditions.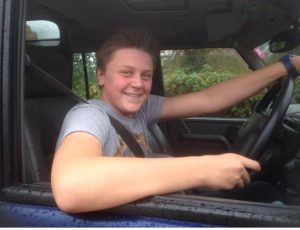 Ben was a bright and active young man, who loved being outdoors, enjoyed his weekend job at a local farm, had earned his Duke of Edinburgh Award bronze award, and was preparing to embark on the silver programme.
Without warning, he suffered a massive, and fatal, heart attack – one of at least 12 apparently fit and healthy young people who die each week of undiagnosed heart conditions.
In their distinctive Team Ben Hammond green tee-shirts, Steve, Sheralyn, Nick Vincent, Jane George and 15-year-old Lucy Hill explained to Wealden Business Group their immediate future objective – to bring a heart monitoring unit from the CRY (Cardiac Risk in the Young) charity to Tenterden next year, capable of screening up to 100 people aged 14-35 in a single day.
The cost of this will be £8,500, but High Halden-based Team Ben Hammond have already raised a sizeable chunk from a lively programme of sponsorships and events.
Steve told WBG members that in the vast majority of cardiac arrest cases among the young, there are no advance warning or symptoms – which is why bringing the CRY screening unit to Tenterden (a service unavailable on the NHS) could help save lives.
For further information, follow Team Ben Hammond on Facebook, Twitter and Instagram.