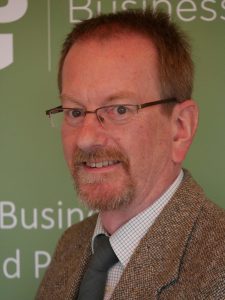 Tenterden-based lawyer and town councillor Justin Nelson, of Nelsons Commercial and Personal Law, has been elected chair of the Wealden Business Group.
Justin, 60, has practised law in Tenterden for the past 32 years after gaining early legal experience in London and Brighton.
Educated at Hurstpierpoint College and Brighton Hove & East Sussex Grammar School, he is married with a son and a daughter. In addition to serving on Tenterden Town Council, he is also a governor of Tenterden primary schools, and lists reading, walking, cycling and beer among his interests..
Says Justin: "I am delighted to have been elected, and am looking forward to reinforcing and growing Wealden Business Group's reputation as the leading professional networking organisation in the area, generating business referrals and support for our members."
The Group's annual meeting also elected last year's chair, financial controller Dee Bateman, as secretary, and re-elected lawyer Richard Byrt as treasurer.
Wealden Business Group welcomes applications for membership from local businessmen and women. For further information visit the website www.wealdenbusinessgroup.co.uk, or call Dee Bateman on 07958 612937.