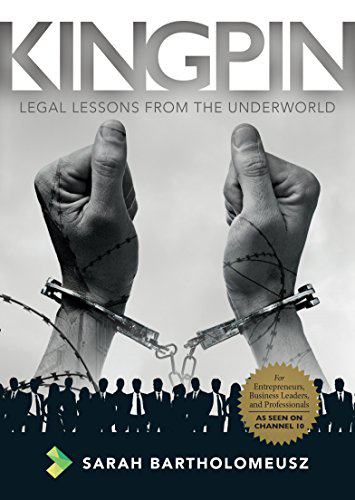 When I first heard of this book I was intrigued. The idea of studying drug dealers "modus operandi" seemed refreshingly new for the world of business books, where recycling and repackaging established ideas and methods is the norm.
Let's begin by looking at the structure of the book. It is written by a solicitor so as you might expect it is reassuringly expensive.
It's a small grey 140-page hardback with an illustrated loose cover. The cover shows a pair of handcuffed wrists above which is the legend "A fascinating book", a quote ascribed to Ita Buttrose (a name that makes me think of Bart Simpson's prank calls to Moe's Tavern).
The first 6 pages are testimonials, then 3 pages of foreword and a 6-page preface before we even get to Chapter 1.
This book has a lot of padding: each of the 7 Kingpins provides an excuse to pad out the content with one or more policy documents; in Ch1 for example "Diversity Policy" and "Wholesale Procurement Policy", "Delegation of authority", "Risk Management Policy", "Customer Service and Complaints Policy". This seems to me a cut and paste job from "the lawyers book of commonly used contracts". Annoying!
And some of the "lessons" seemed a bit trite.
Tim Green can't be here today but he kindly sent his review…
Bill, I am sorry to miss your book review. If you'd like my thoughts, I have to say it was one of the most boring books I have read in a long time, I really struggled to finish it. The concept and the title were intriguing but I found the content very formulaic and the prose leaden.
I replied
Thanks Tim
Hard to argue with your analysis ? I will include this in the discussion.
Summary notes on each chapter
Ch 1 An overview of the drug trade
Essentially we have a market in the first world for a product from the third world apparently brokered by intermediaries in South America and Asia. Surprisingly no mention of Russia.
Suppliers can be criminals or businessmen, or a bit of each.
While legit businesses strive to grow, drug businesses strive to minimize risk. And we have some tips on how to reduce risk:
–        keep money separate from drugs
–        Keep stock moving and disperse it into small portions
–        Secure communication, encrypted messaging, disposable phones
–        Only work with trusted people
Ch 2 Frank Lucas. Harlem 1960' + 70's
Direct sourcing. Went to Thailand to find direct supplier of heroin and purchase wholesale, (previously product came via Mafia).
Mental rehearsal – "back tracking" covering every detail of operation
Ran legit businesses as well, good social network.
Philanthropist. Confident. Brave.
Innovation: hiding drugs under coffins and in furniture.
Branding – Blue Magic – high quality product
Police raid – found bags of cash
Reformed character now lectures on evils of drugs
Ch3 Khun Sa Burma. Militia leader using drug money to fund army
70's-90's Opium King for 30 years.
Formed alliances with likeminded groups, shared visions and goals. Notable for networking, collaboration, joint funding, working groups. A good negotiator; adjusted his position to changing circumstances. A manager and leader.
Be flexible
Died of natural causes at age 63
Ch4 Griselda Blanco
Cocaine to New York from Columbia.
Invented mules, concealed drugs in clothes and bags
Used fear and murder (200 people) to get and hold power
trademark assassination method of 2 shots to head
Ran empire from prison
Murdered at age 69
Ch5 Pablo Escobar. "The world's greatest outlaw"
Medellin cartel more powerful than Columbian government. "Silver or lead"
Robin Hood persona, philanthropic to neighbourhood community, violent towards opponents
Controlled all distribution chain from procurement to delivery
Never outsource what you are best at
Killed at age 43
Ch6 Dawood Ibrahim. Range of criminal activities. Business diversity and networking
Had close links to other groups: Mafia, Boko Haram (Islamic), D-Company (Hindu and Muslim)
Novel transport methods: milk and oil tankers, inside oranges in cans
Don't upset your community, keep on good terms with your neighbours
Still alive but under threat, £1.8Bn of assets recently seized in Emirates.
Ch7 El Chapo, Mexico
Tunnels are his trade mark. Cross border to US from Mexico and to escape from prison (first time in a laundry truck, second time by tunnel)
Good at risk management; split big orders into smaller consignments. Shared investments
Smuggled drugs in canned peppers
Do not become complacent after success
Extradited to USA in January 2017, awaiting trial
Ch8 Christopher Coke, Jamaica
A community leader in Tivoli Gardens
Enforced rule with US weapons
(TG next door to Petrojam refinery which is the main dock for fuel tankers)
Use the resources that are under your nose
After Tivoli Gardens massacre extradited to US
Serving 23 y prison sentence
Ch9 7 reasons Kingpins succeed
For me this chapter seemed irrelevant, just a rehash of what has gone before.
Ch 10 Conclusion: one of the best chapters, pp136-138 does a good job of summarising the skills and business practices, strengths and weaknesses of the 7 models.
————————————
The classic career profile: learn the trade, use family connections and introductions. Rise through the levels until you are in charge. Then it gets tricky. Once the money starts rolling in how do you cope?
The demise of the kingpins came about when they got careless or their luck ran out. Sometimes greed or just momentum as profits accelerated, led to lavish spending and philanthropy. The business got too big to conceal and brought attention from rivals or law enforcers. We saw how violence and intimidation eventually backfires. It leads to loss of support and creates enemies.
Suggestions for further study:
Breaking Bad – HBO especially SE04 EP5,6 how to set up a legit business as front to launder money
Weeds – HBO series – cannabis production
Wired – HBO series – drug distribution
Mental rehearsal – "back tracking" as used by Frank Lucas
("theatre of the mind" ref Maxwell Maltz, Psychocybernetics ).
Notes by Bill Ferguson, Osteopath www.billferguson.co.uk